UPDATE!
****
We've taken a lot of cabs on this trip, and we usually get a gruff no-response when we tell the cabbies what we're up to
(e.g. Cabbie: "So what brings you to our fair city?"
Us: "Yay! Poetry reading! Yay!"
Cabbie: "uh . . . "
Us: "We're doing fifty in fifty days on a bus! The Poetry Bus!"
Cabbie: " . . . mmm "
Us: "The Poetry Bus!"
Cabbie: "Yeah so that's nine fifty, you want me to pop the trunk?")
But we took a cab from the Make Out Room to Club Deluxe in San Francisco, and our cab driver got VERY excited about the fact that we were poets.
"No shit?" he said, turning to look me in the eye, "I have poets in my cab right now?"
We told him that it was no shit, that he did have poets in his cab right now and so he recited one of his own poems, a short one with the line "a day in the life and a life in a day", and then he told us that he had committed his life to fighting for his culture, the American bohemian culture.
"I've been fighting hard, man, but I've begun to think about leaving this country," he said, "There comes a point when you have to stop fighting and just get out, you know?"
"I know," I said, and then I told him I thought it would be a shame to leave, and I meant it.
"I hitchhiked down here from Seattle 23 years ago, man, and I love it I mean look at this city," he said pointing through the fog to the lights below us, "I left once to have a romance in the mountains with a hippie girl, which you totally have to do, but I've been here ever since. I met Kesey once at a Dead show, but I was too fried on acid, man. Totally fried. How long are you staying?"
"Not long," I said, "we leave in the morning for Ashland."
"Ashland!" he said, slapping the wheel, "That's one of the great places on the West Coast, a total diamond in the fucking rough."
That got us very excited, because we had thought, for no reason really, that we might be going to somewhere terrible.
"I can't believe I had a bunch of poets in my cab going to Ashland!" he said when he let us out, shaking our hands and wishing us the best.
We tipped him as well as we could and headed in to the reading, beaming.
And then the next morning we drove up the coast to Ashland, which was as amazing as our cab driver had said.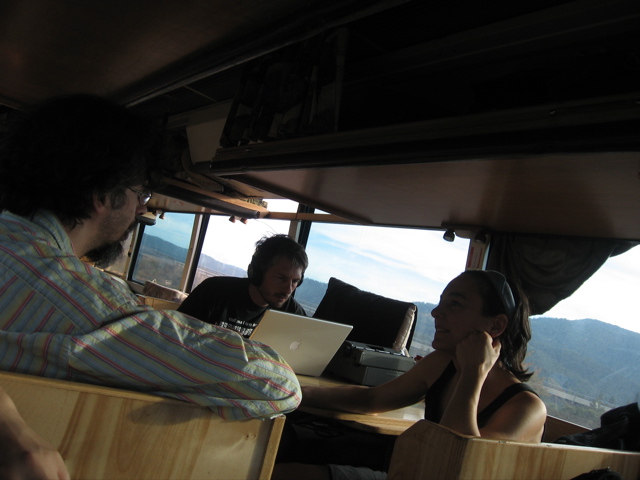 Mountains, eggplant burgers, micro brewed beer, and trees.
K. Silem Mohammad and Craig Wright welcomed us into the Meese Room in the library of Southern Oregon University, where about a hundred folks, including Christian Hawkey's mom and brother, sat waiting to listen.
And do you know what happened in Ashland? What happened in Ashland was that Bill Wesley, the man who has been driving us around the country in this bus for fifty days, got up in front of the crowd in Ashland and read poems.
Poems he wrote while driving us around the country on this trip.
Bill is a musician as well as a driver, and he's an incredibly open and creative person, but he hadn't really considered himself a poet before this trip began, so to see him up there in front of people reading his poems was profoundly moving.
Moving, profound, and incredible because I mean Bill! Fucking Bill was up there in front of the people of Ashland reading poems! Bill!
I almost lost my mind.
Watching him I almost lost my mind because I had forgotten, after 50 or so readings, how much courage takes to get up in front of a crowd and read the poems you've spent your time working on.
It's not normal.
It's not normal but we forget how special it is, but I watched Michael Earl Craig listening while Bill read, and Earl kept slapping his hands on his legs and shaking his head. He understood how not normal it was.
"I can't believe it," he said to me, wide eyed, after it was over.
Neither can I.
Thanks, Bill.
Below is a poem from Bill, and if you want to hear it straight from the Bill, then head over to the Poetry Foundation site to read his own dispatches.
Thanks, Kasey. Thanks, Craig.

Related items